Last Thursday, the National Association of Realtors reported that Pending home sales are down 7.7% from 2017, on an 11 month trend. Does this include Oregon Real Estate? Yes, it does. In fact, Lawerence Yun, NAR President noted that the entire West Coast is seeing the largest decline in Pending sales, mostly due to the lack of affordable housing and tight zoning restrictions.
Based upon sales reported by the WVMLS, a local MLS board serving the counties of Marion, Polk, Linn and Benton in Oregon, the number of properties sold by year to date, barely increased from 2017. November 2017 reported 10,314 sales year to date, while this November showed a slight increase to just 10,401 sales year to date. While this is the highest number of properties sold in the last ten years, we are also at the high point in a cycle, that usually repeats itself every 10-12 years.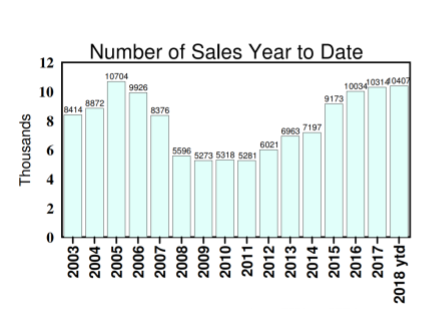 Is it time for you to sell at this point in the cycle? Let"s talk! Tell us about your Oregon horse or rural property in the form to the right.